Building a New AI Chatbot in 8 Hours
ChatGPT-Powered "George" is Answering All MJLers Company-Related Questions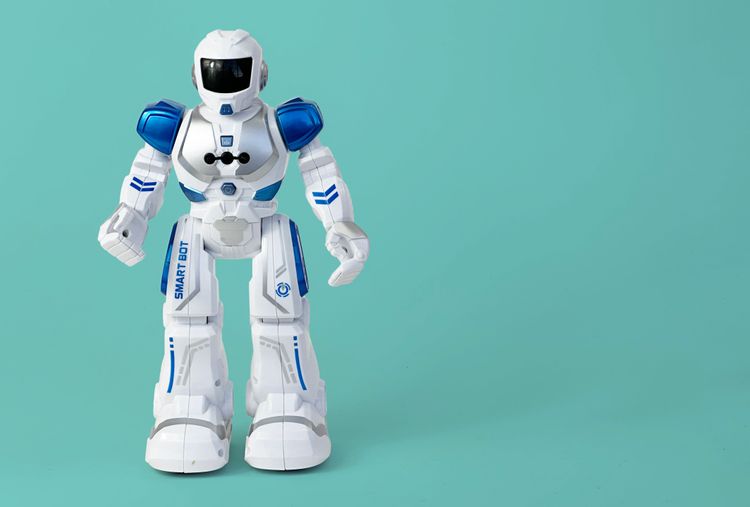 George,the AI Bot for Workplace Assistance
"What holidays do I have off?" "What are our security best practices?" "What email signature should I use?"
These are just a few of the many questions we've asked George here at Monkeyjump Labs this week. And within seconds, our answers are pulled directly from our internal Wiki.
Our COO, Jared, used the new Azure Open AI features to create a chatbot for internal employee use. Building our own digital solution (or game) is not anything new here, but creating an "employee" to serve the team via Slack and giving it a name, is certainly a new — and really fun — adventure.
At a company named Monkeyjump Labs, George seemed like the natural choice when it came to giving our chatbot its namesake. But what is George programmed to do?
How It Works
By nature, artificial intelligence crawls the web to answer questions by pulling information from various places. When employees at MJL type "@George" in any Slack channel, he will respond in seconds, sharing information that he has pulled directly from the company system.
Since George crawls our internal Wiki, he is set up to answer the most common questions an employee would be curious about. These are questions that would normally be handled by (a) searching their work platforms for an undetermined number of minutes, or (b) asking their manager to stop what they are doing to point them in the right direction. To be clear, asking their manager is still an option, but George is often faster due to his ability to get an immediate response.
To summarize, George is the chatbot that exists to decrease search time and increase productivity. But how is it set up?
The New AI Chatbot Set Up: Empowering George
We built George in three steps (we will discuss the first two):
Set up Chat GPT 'System prompt' content
Keyword extraction — taking "search terms" and searching the Wiki
Dynamically adding content to the prompt based on the search results of the Wiki
System Prompt Setup
To ensure that the information is curated from MJL for MJL employees, we first curated a system prompt — which sets the context and tells the bot what information it will be responsible to share and how to respond to our questions. System prompts shape the outcome a certain way for all answers.
Jared took time to customize the information by setting up who George would be, essentially establishing his identity for our company. The written prompt gave George his detailed identity, creating his boundaries within the company database.
The customization of the System Prompt took the majority of the building time to ensure a safe and meaningful experience. Getting George to respond properly using the sources we found in the wiki was a process of trial and error.
Assigning Keyword Extraction
The second step of the setup was the keyword extraction.
Keyword extraction means taking specific search terms and giving George a list of chosen URLs to share when those words are used.
If an employee asks George, "Hey @George, how do I use the office coffee machine?" We process that message and remove the key phrase "coffee machine." Those keywords are used to search through the Wiki. George then answers the question in full and includes the link in his response to give the employee direct access to the Wiki page.
Common keywords that seem to come out of questions from employees are: "time off policy," "company holidays," "employee names," "clubs," "happy hour," and (a lot) more.
By design, George cannot share private or personal employee information such as salaries, time-off requests, or employee performance reviews.
Finally, Jared integrated George bot into the company Slack channel, giving the team instant access to interact with it, and the response has been overwhelmingly positive.
How George can transform productivity?
We're listing our favorite aspects of George:
New and onboarding employees can get quick answers for things.
George is a one-stop shop for asking company-related questions.
It saves time with its self-help nature.
George's attachment to a knowledge base is robust. For example: "How do I install Adobe Photoshop on my laptop?" which can link to relevant articles or the internal form to submit for a license.
It's fun to interact with– people have played a text-based game with it. It can write songs/poems for almost any request.
We will leave you with a poem we asked George to write for us with this prompt: "@George give us a quick synopsis for a new comedy about the software consulting company Monkeyjump Labs." Enjoy!
"In a world of software and code, Monkeyjump Labs holds the abode. With programmers who are quite unique, Their nerdy humor critics would certainly critique. In the consulting world they take the lead, Of software development, they know every breed. From coding to design, they make it all, And sometimes, their antics can be quite a ball. A new comedy in the world, it seems, About the company where the light-hearted beams. With jokes and laughter, it's sure to be grand. And put Monkeyjump Labs in the palm of your hand. With a funny cast and vibrant colors, It's sure to bring laughs and, for them, hollers. So, come one, come all, and join the fun. With Monkeyjump Labs, the laughter has just begun! "
- George Bot
Would accessing helpful information quickly be useful for your company/employees? We can build your company its newest chatbot, "employee."